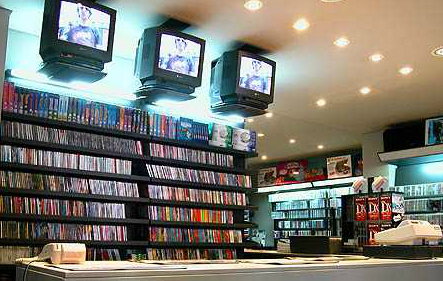 Our record and hi-fi shop was established in 1986. Since then it has been a sort of temple of pleasure where music lovers hang up and chat to other soundmates about music and what not. Customers meet and chat with each other accompanied by the background music of the latest releases or rediscovered past glories.
Our know-how and skillful search in the catalogues ranges from PURE ANALOGUE SOUND and the so-called LIQUID MUSIC.
Our shop is equipped with a state-of-the-art listening room where customers can check and test a wide range of products and try out to assemble amplifiers, preamplifiers, loudspeakers and diffusors, record players and turntables so as to feel a pure sonic experience.
Our time-honoured expertise allows us to offer assistance service including installation and maintenance so as to optimize the overall performance of all audio and hi-fi appliances for their various uses.
Our store sells top quality products and top brands available in the market.
DISCO SHOP is their people and it's not a virtual reality as it sadly happens most of the times. We are always at your service and ready to satisfy your queries and respond to your challenges.
Enjoy the music !
Il nostro negozio di dischi e HI-FI nasce nel 1986 ed è stato per più generazioni una sorta di tempio del piacere in cui rinchiudersi parlando con i propi simili di musica, ma non solo, incontri e discussioni che hanno come colonna sonora novità discografiche o riscoperte dal passato che suonano dalle casse incuriosendo tutti gli avventori.
La nostra competenza e la nostra ricerca si espande dal PURO SUONO ANALOGICO alla cosiddetta MUSICA LIQUIDA, con tutte le novità disponibili.
Nella nostra sede disponiamo di una moderna sala d'ascolto per permettere al cliente di testare una vasta scelta di prodotti assemblando in diverse combinazioni amplificatori, preamplificatori, casse acustiche e diffusori, piatti e giradischi, e sperimentare da vicino l'assoluta naturalità del suono.
La nostra pluriennale esperienza ci permette di offrire anche un servizio di assistenza, installazione e manutenzione degli impianti al fine di ottimizzare le prestazioni di queste apparecchiature e farle rendere al meglio nelle diverse location a cui sono destinate.
Disponiamo dei migliori prodotti e delle migliori marche presenti sul mercato.
DISCO SHOP è composta da persone e non è una realtà virtuale, come invece, purtroppo, spesso accade; siamo sempre presenti e responsabili in prima persona, pronti a soddisfare le vostre richieste e ad accettare le sfide che proporrete.
Buon ascolto e buona visione a tutti.
Disco Shop